Regular price
Rs 349.00
Sale price
Rs 174.50
Unit price
per
Sale
Sold out
Plant Powered And Hypoallergenic Formula which soothes the damaged skin
Forms A Protective Layer To Shield & Hydrate Baby's Skin
Helps Relieve Rash Discomfort And Inflammation
Forms a breathable protective layer against dampness
Free from silicon, parabens, dyes, phthalates, formaldehyde, PEG, SLS, etc
ESTIMATED DELIVERY BETWEEN to
Share
View full details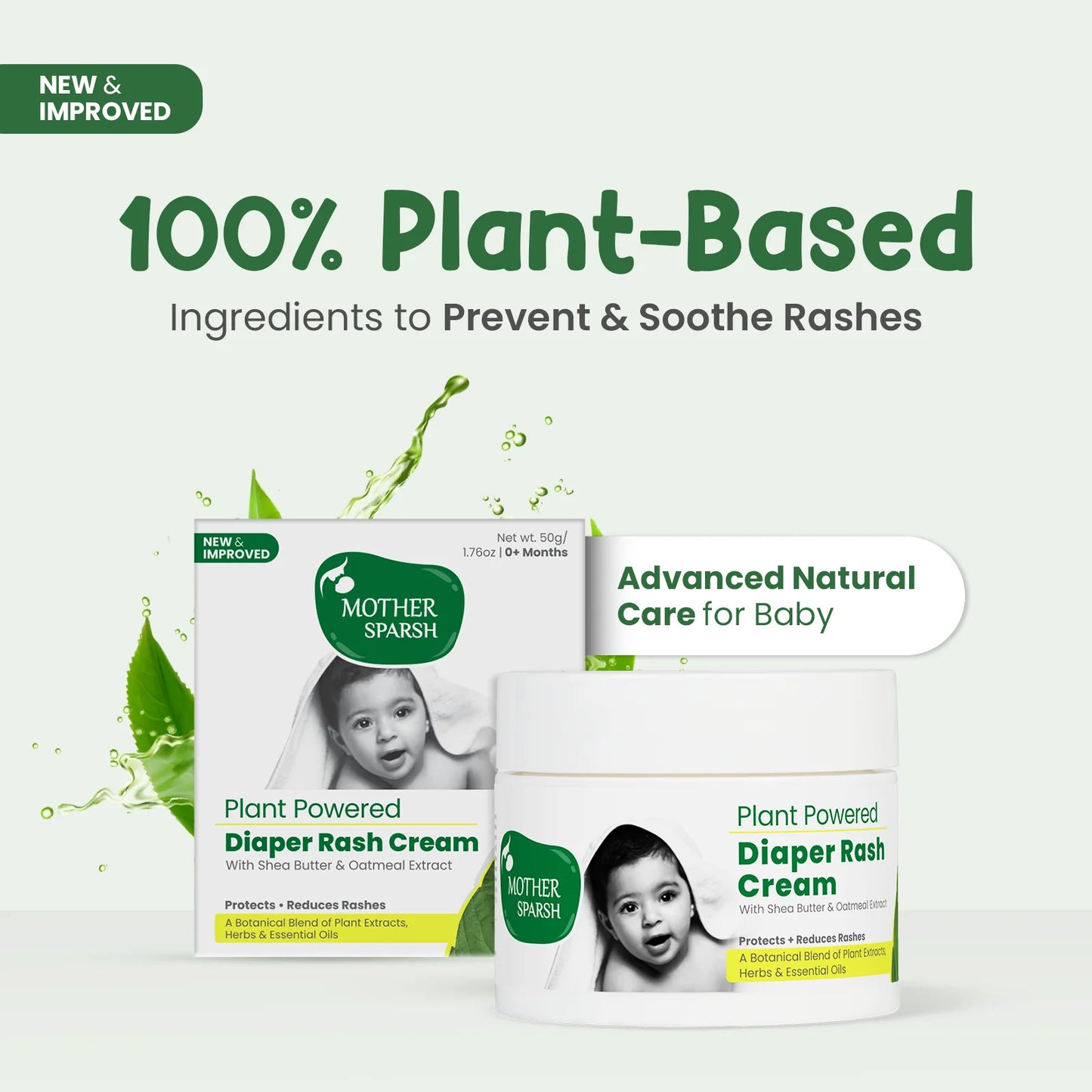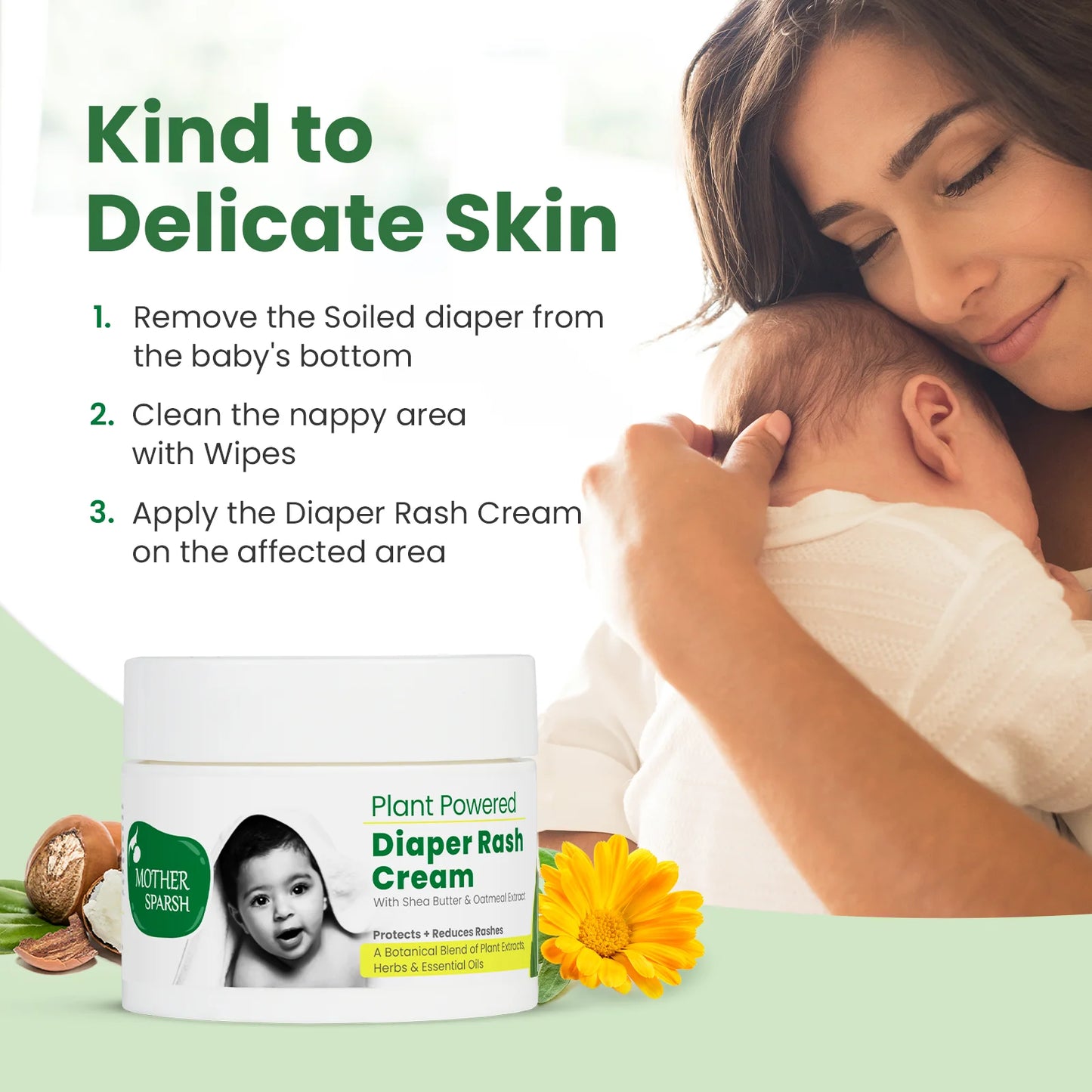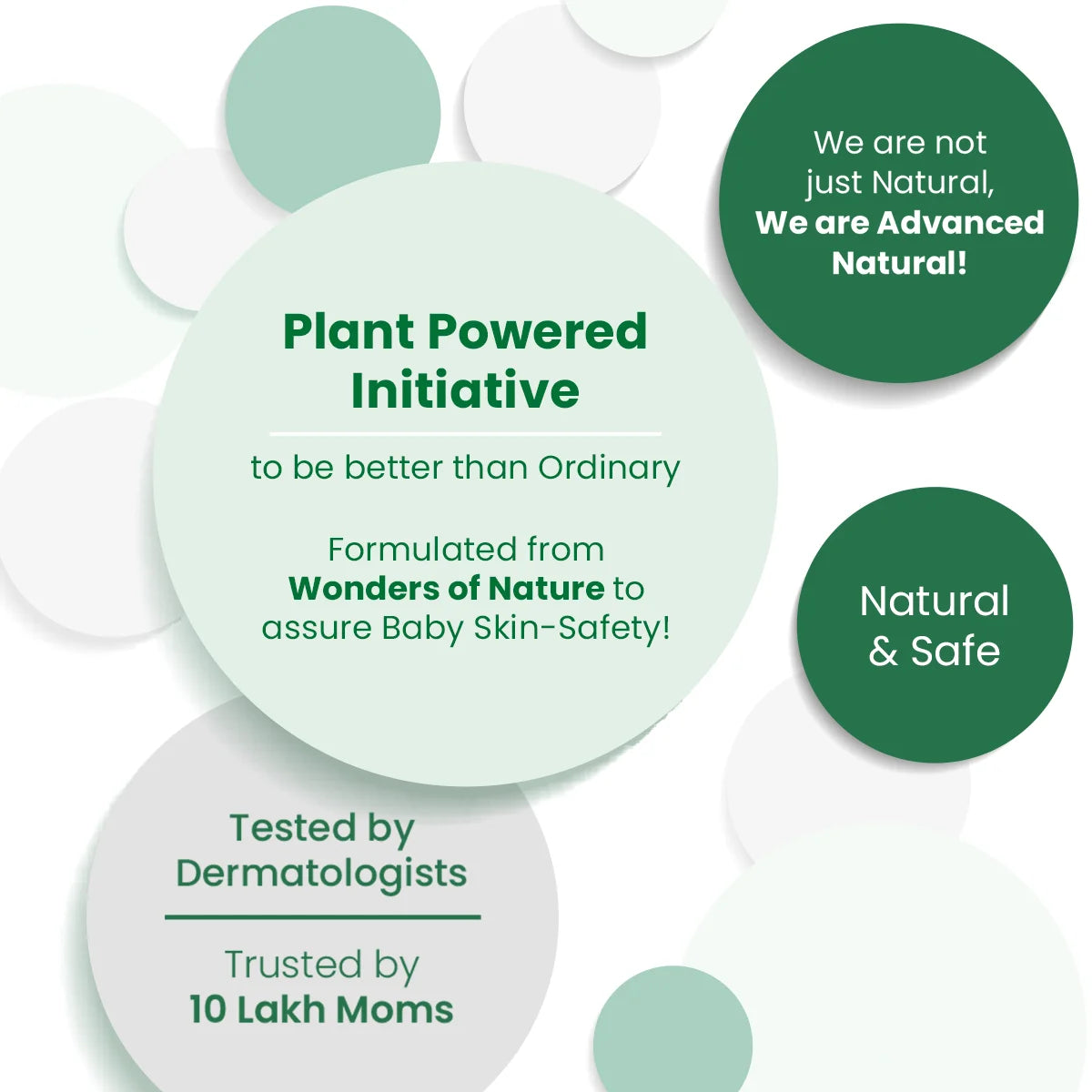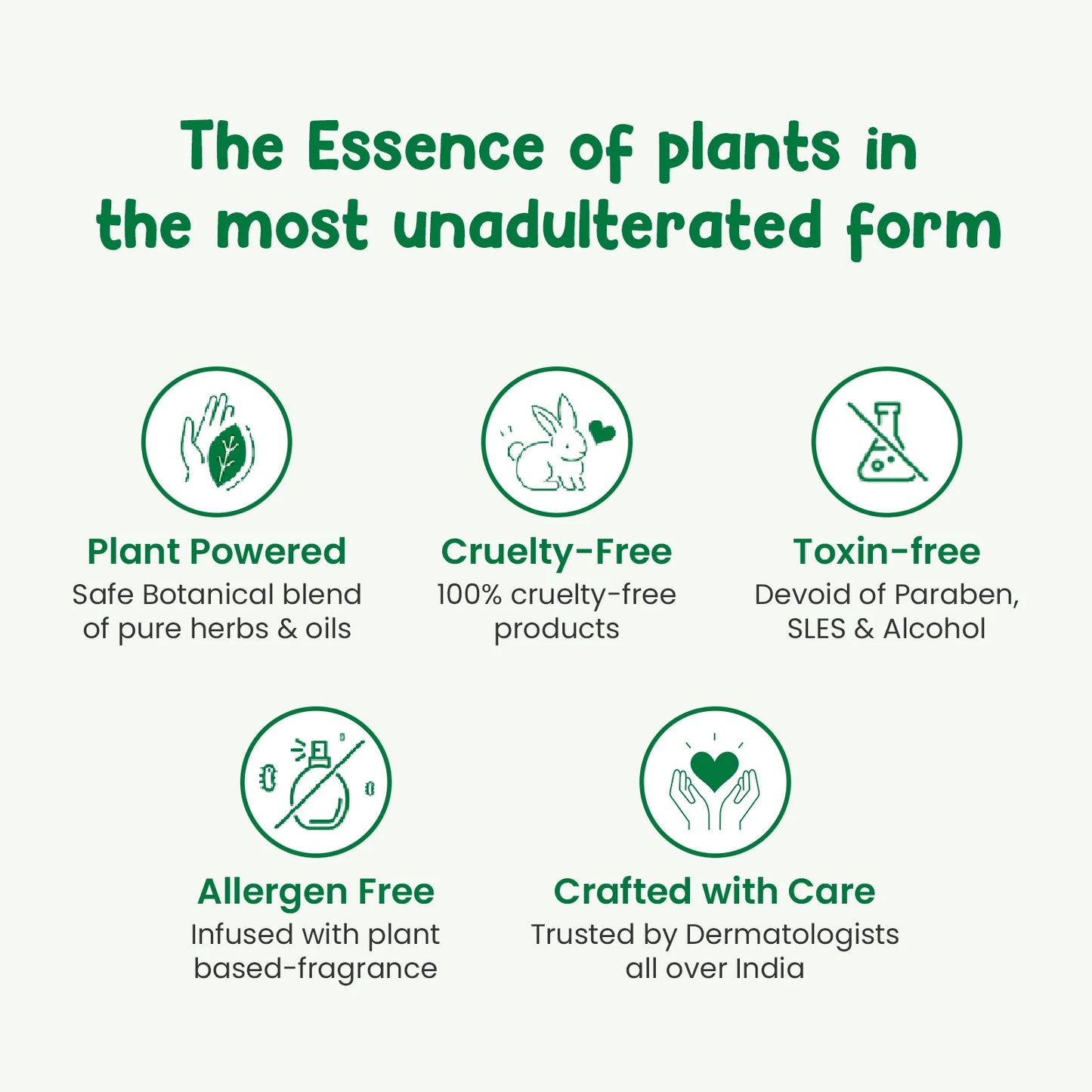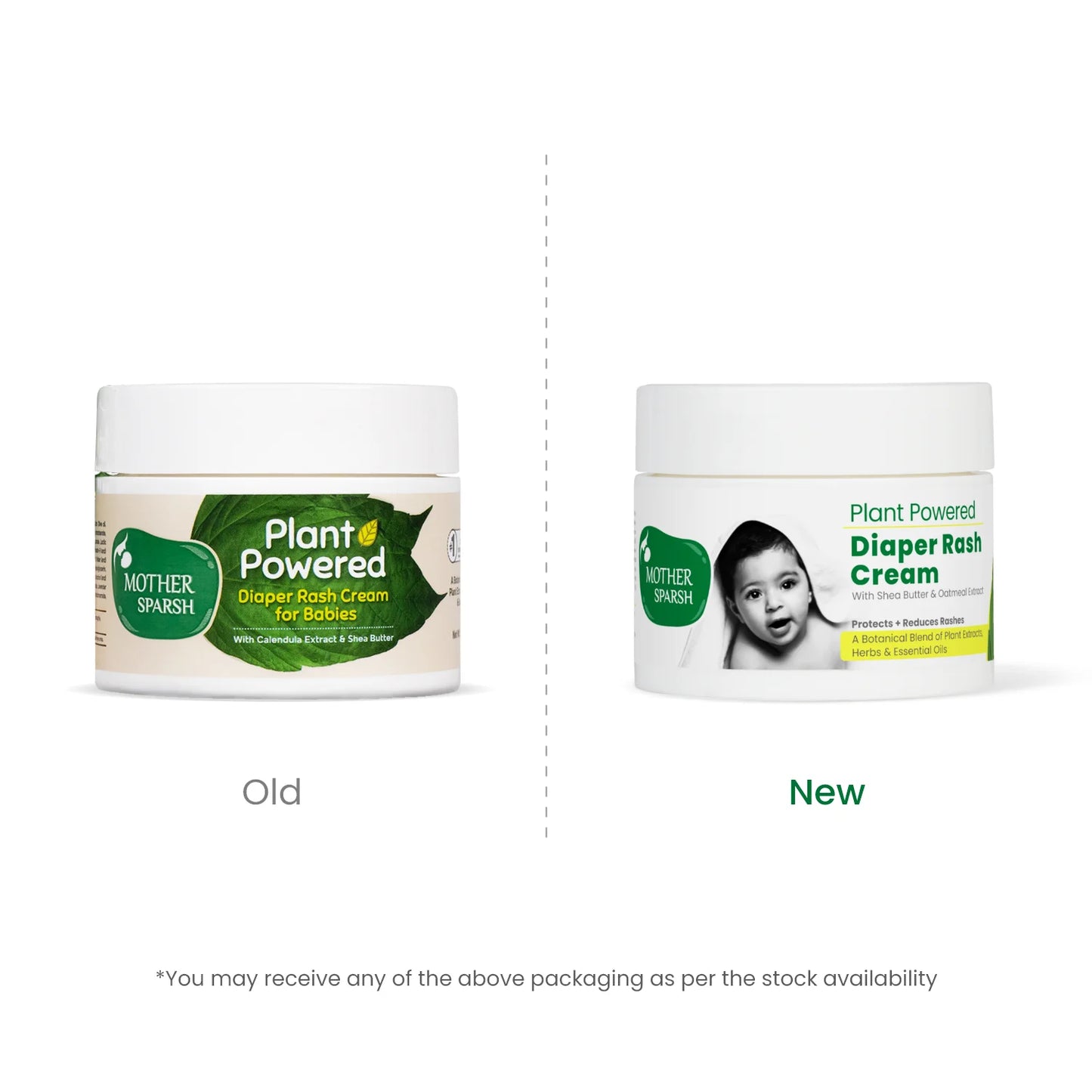 How to Use
Ingredients
FAQs
Disclaimer
More Details
How to use
Remove soiled diaper from baby's bottom.
UClean the nappy area and allow it to dry.
Apply diaper rash cream liberally on the baby's bottom, as often as necessary.
Key Ingredients
Calendula Oil
Eases skin discomfort
Shea Butter
Soothes irritated skin
Wheatgerm Oil
Soothes redness & irritation
View All Ingredients
FAQ's
What are the major ingredients of this product?
Plant Powered Diaper Rash cream is made with extracts from plants as well as organic herbs ingredients such as beeswax, Shea butter, a natural emulsifier, cocoa butter, etc., and has a botanical blend of organic herbs and essential oils like wheat germ oil, grape seed oil, coconut oil, olive oil, rice bran oil, sunflower oil, etc.
What is the purpose of this cream?
Mother Sparsh Plant Powered Diaper Rash Cream is a safe solution for babies natural ingredients and herbs. It soothes and heals the skin, and protects it from diaper rashes. The natural formula ensures that there are zero chances of allergic reactions happening to your baby.
Is this product safe for my baby?
Yes, Mother Sparsh Plant Powered Diaper Rash Cream is free from parabens, silicon, phthalates, formaldehyde, PEG, SLS/SLES, or harsh chemicals & dyes and is based on Plant Powered formula having an organic blend of organic herbs and essential oils, so it is 100% natural to use.
How thick should I apply?
Using your fingers, apply a thick layer to the entire diaper area. Try to touch the baby's irritated skin as little as possible. Be generous in applying Mother Sparsh Diaper rash cream as it is safe when used as directed and may be used at every diaper change to help treat and prevent diaper rash.
Should I apply everywhere or only where I can see red?
Mother Sparsh Plant Powered Diaper Rash cream can be applied to the areas where the diaper touches the skin to prevent a diaper rash, even when you don't see visible signs of a rash as it consists of a botanical blend of organic herbs, plant extracts & essential oils.
Disclaimer
Skin Type: From Normal to Sensitive Skin
Product Dimensions (LxWxH): 6x5.5x6.5 cm
Best Before: 24 months from the date of manufacture.
Storage: Cool and dry place
Generic name: Rash Cream
Number of items: 1
Country Of Origin: India
Net Wt: 50gm
Even natural ingredients can cause and trigger allergies, a patch test is recommended before using.
This product is not intended to diagnose, treat, cure, or prevent any disease.
More details
Marketed by :

Mother Sparsh Baby Care Pvt. Ltd.
Plot No. - 303,Industrial Area Phase - 2
Panchkula, Haryana - 134113
24x7 Helpline: 91384-43932
Email: info@mothersparsh.com
website: www.mothersparsh.com

Manufactured by :
Lab for Youth Pvt. Ltd.
Plot No. 244,
Industrial Area, Phase 1,
Panchkula 134113 (HR) India.